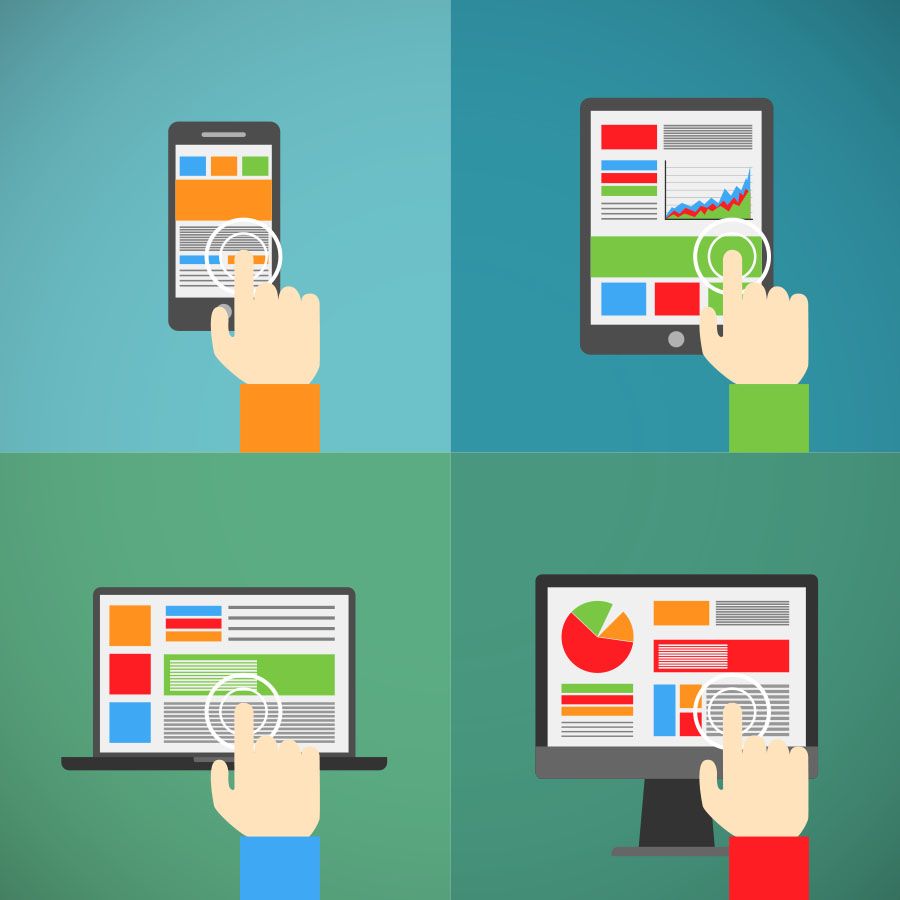 Custom Website Design
Every business needs a website
Without a website for your business you are missing out on sales.
With a website, your store will be open 24/7 to potential customers who can be browsing from anywhere, at any time.
Your website needs to solve a problem; it needs to help you meet a business goal.
If you have already have a website but it isn't working as hard as it should, or you're starting from the ground up — we can help you make the website that works for your customers and your business.
We make your website beautiful and compatible across any device.
Responsive design:
The internet has shifted towards mobile-first, with more than 50% of all internet usage going mobile. Many potential customers and clients will be searching for your product or service through mobile, smartphones, tablets and they will not wait for a site that is not compatible with their device.
Our websites are responsively designed, which means that when consumers discover your site, they get the same great look and experience, no matter where they are or what device they're using.
45% of consumers looking for local products or services search for them via a mobile device first. (Source: Telmetrics).
We help you to convert more leads into customers by building attractive, user-friendly website that work all devices.
Our website optimization services focus on how we can make your website make you more money.
We're going to build your site in a way that drives and converts traffic.
Because we are a full-service marketing agency, not just a website factory, your site will have outstanding design and premium copywriting to make it shine above all the rest. We will optimize your website and the content we create so you're primed for better rankings in the search results
We start with SEO
SEO and lead generation are some of the main ingredients we start with when planning a site's design and development, right from the initial stage to the launch.
Your website will be configured and optimized to show up on all major search engines.
We create website keeping Search Engine Optimization in Mind
We build Multi-platform: We work mainly all the platform like wordpress, joomla, etc
What Are Some Benefits Of Our Website Design Service

Ready in less than 4 weeks

Beautiful Product Galleries

Looks Great On Any Device

Easy-to-use Content Management System
Frequently Asked Questions
Where can I download the Genesis Simple FAQ plugin?
The Genesis Simple FAQ plugin is available on WordPress.org. Click here to download.
Where can I show the FAQ section on my website?
You are able to add the FAQ section to many locations on your website, including a front page widget section, your page content, or a sidebar widget.
Can I customize the design of my FAQ section?
Yes, the Genesis Simple FAQ plugin has basic styles included in order to look good on any Genesis website. You are also able to customize it to match your website using your child theme's style.css file.
How does the Genesis Simple FAQ plugin work?
Adding a FAQ is simple. All you need to do is create an FAQ through the WordPress dashboard, and display your FAQs on your site by way of a shortcode. Click here for more documentation and usage of the Genesis Simple FAQ plugin.
We're experienced in optimizing the world's most popular platforms